Have a few extra hours in your day but nothing to do? Or maybe, there's an empty wall that is simply begging for some adornment and you don't want to spend extravagantly on the cause. Here are few DIYs that won't take longer than an hour and are easy on your pocket as well. Not to mention they're ridiculously fun to do.
1. Go natural with pressed leaves!
All you need to do is go out your door and pick up a small twig with leaves. Press this twig under a pile of heavy books for around a week and your pressed natural template is ready! Now all you have to do is artfully place the twig on your canvas and spray it with a colour of your choice. Remove the twig when you're done and you'll be left with a beautiful masterpiece.
2. Three bottles of paint and you're done!
Not in the mood to spend extravagantly on home decorations? Then all you need to do is buy three large bottles of paint and a single large brush. Even if you're not much of an artist, mastering the smooth and simple strokes needed for this work of art won't be something that you can't easily accomplish. The resultant canvas is beautiful and won't take you longer than an hour to make.
3. Newspaper silhouette art
Grab a few old book pages and paste them onto your canvas to make a background. Now all you need to do is pick out a silhouette to place on this base. You can either cut out a silhouette or paint it using black or any other shade of paint as desired. Then, presto! Your wall art is complete!
4. Dancing ballerinas for your little ballerina
This is the perfect canvas art for the special little girl in your life. All you need are two or three moderately sized canvases, some paints for the base and the black dancer silhouette and of course a bunch of tulle or tissue cloth for the adorable tutus and you're good to go! Add sweet cloth flowers to their cute little buns as the final touch.
5. Write it out in a Quote!
For those of you who aren't born artists, here's something that won't require much skill, or time! All you need to do is find a quote from your favourite book or movie and simply write it out on the canvas using your mad typographic skills to make an aesthetically pleasing piece for your wall.
6. Spice up some simple stripe!
Give a new take on age old stripes and go ballistic with your imagination. All you need to do is mark some straight lines and fill with random colours and the job is done. Who knew that being an artist was so easy?
7. White letters to keep it classy
This is one of the easiest and most posh looking things to try out with an empty canvas. Buy some wooden letters from the local crafts store or even 3D stickers and all you need to do is paste them on your blank canvas in whichever arrangement you desire. Run a brush over the entire thing with white paint and your job is done!
8. Light it up!
This is one piece that'll get second looks from your guests and have them asking where you bought it from for sure. To make a light up canvas, all you need are a set of your old Diwali lights and after punching a few holes in your canvas, the job is done. Tweak up the basic idea with your own creativity to make it even more enthralling!
9. Embrace the serenity of a single shaded design
For this royal looking creation your sole requirements are some puffy paint, a bottle of paint of your choice (here, white has been used) and a brush. Make a pattern of your desired choice on the canvas and wait for it to dry. Now all you have to do is paint over the entire thing with whichever colour you like and the job is done.
10. Abstract stripes with a colourful touch
It may look difficult but this piece requires no more than the blunt end of your brush smearing colour as haphazardly onto your canvas as an excited toddler. Add tape in the desired stripe or geometric pattern before painting to get this delightful display!
11. Geometric designs with a metallic touch
This is quite similar to the piece with abstract stripes above, the only difference lies in the fact that you pick a metallic shade and use it as the base before you stick the tape onto the canvas's surface. After your base and tape is intact, add a subtle shade that plays well with the metallic inlay. Wait for it to dry before ripping out the tape and you're done!
12. Fabric on Canvas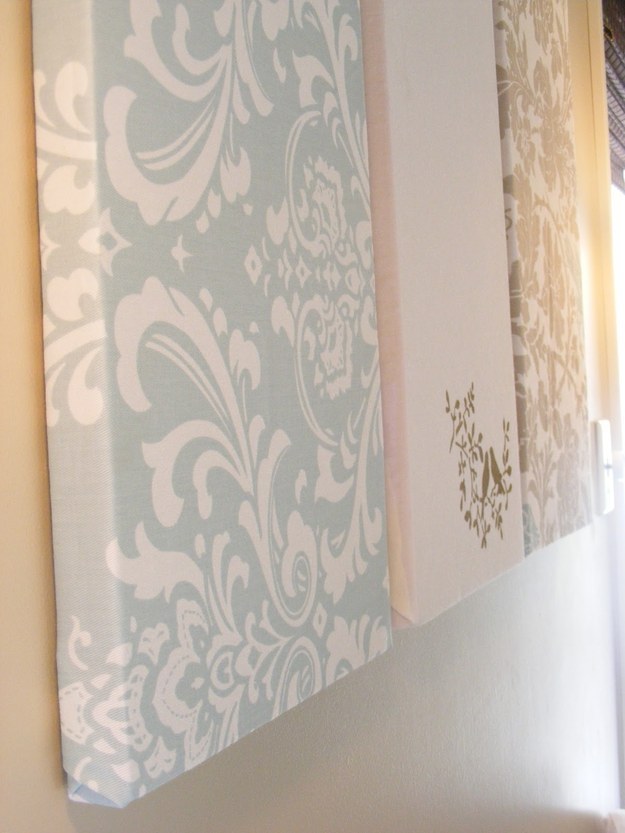 The easiest trick on the planet to give your walls a more regal look is covering it with a bunch of these! The only thing that you need to do is buy some cloth of a preferred pattern or design (or dig up an old saree or dupatta) and paste it onto the surface of your canvas with some heavy duty glue. This will literally be over in 10 minutes and will leave you feeling an unearthly accomplishment over doing nothing.
13. Photo Canvas
Last but not the least is decorating your walls with canvas decals of your photos. This one takes a little longer but is easy to do once you've acquired all the requirements. You'll need a print of your photo, canvas cloth, and matte Mod Podge (which is available in India online). The outcome is something that you'll truly be proud of looking at and will make over and over again. Here's a link with the complete directions on how to get it done.
Share Your Suggestions and Related Experiences Here..